In 2009, I was lucky enough to be invited to be part of the Al Bino project, which was put together by Cancer Council NSW. This project was targeted at adolescents, as Cancer Council NSW had discovered quite alarming, declining rates of sun-safe behaviour amongst this group. They worked with Naked Communications to create the character of Al Bino who released a song, and accompanying film clip, about the consequences of sun exposure. I was part of the team of English teachers that collaborated with both Cancer Council NSW and Naked Communications to create materials for teachers to use in classrooms, so that students could engage with Al Bino's message in a "non-preachy" way.
I think this film clip, and its incredibly important message, is well over due for a revival. I mean, who doesn't love a singing skin cancer?!
Jemma Myors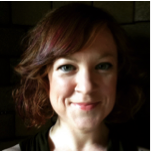 Jemma is a freelance copywriter with more than 12 years experience teaching English and History throughout NSW. You can find out more about her, and see more of her work at LinkedIn. Alternatively, please contact her at Twitter, particularly if you have a project which involves a singing and dancing tumour.
Link – Webquest http://www.albinowebquest.com.au